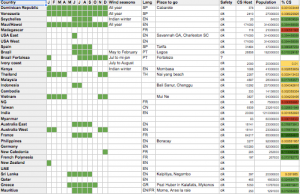 As I am a  kite surfer and couchsurfer, I like to travel in countries where I can do both! So I have initiated this Google doc spreadsheet where we can see where and when is the wind and if it will be easy to meet locals. It is far from complete and in a constant move.
I wish we would live in a wonderful word and I would be able to share this in public writing, but if you want to add/modify any data on this, I will be more than happy to give you an access. Just drop me a message!
To find good kitesurfing spots you can use those websites :
http://need2kite.com/
http://www.wannakitesurf.com/
http://www.kitesurfatlas.com/
About me
Welcome to my space! With over 10 years of solid IT project management experiences, I developed both management and technical skills. I learnt how to coordinate teams integrating the marketing, technical and administrative aspects of a project. View my resume.
Hera Process
Hera is a new solution for managing web projects. Unlike other heavy processes Hera gives you a ready to go solution with concrete examples and documents. Hera is an Open process under the Creative Commons Attribution Learn more about Hera Process.